How it works
Our Loan Process
Getting a loan with Pera Loans is simple and easy. Pera loans provide loans with up to 6 instalments and smaller, more manageable repayments. Applying online for a loan is hassle-free and with complete transparency.
You do not need the perfect credit score when applying for a loan with us. We believe in giving everyone fair access to short-term credit. When you apply for a loan with us, we look beyond your credit score and consider your overall affordability. Apply today with Pera Loans and get an instant decision. If you have any questions whilst completing your application, call us on 0203 397 1744 / 07946 220135 or email us at info@peraloans.co.uk.
Apply Now


A step-by-step guide to how Pera Loans works
1.
Select the amount you want to borrow and complete the application form.
2.
Get an instant lending decision.
3.
If approved, money will be sent to your bank account the same day.
4.
Make the weekly/monthly repayments tailored to your needs.
How much can I borrow?
Our Loan Process
At Pera Loans, you can borrow from £400 to £2000. As a short term direct lender, you can repay your loan in up to 6 monthly instalments (or up to 26 weeks). We encourage our customers to repay the loan as soon as they can to help them save on interest.
| Amount | Duration |
| --- | --- |
| £400 – £550 | 3 months (13 weeks) |
| £600 – £650 | 3-4 months (13-17 weeks) |
| £700 – £750 | 3-5 months (13-21 weeks) |
| £800 – £1200 | 3 months (13 weeks) |
| £1300 – £1700 | 4-6 months (17-26 weeks) |
| £1800 – £2000 | 5-6 months (21-26 weeks) |
These terms are without our Easy-Start feature enabled. Selecting 'Easy-Start' on the application form will allow you to add an extra month (or week) to repay your loan without adding any additional interest.
Remember: All loans from Pera Loans can be paid early at any time with no penalty.
Application help FAQs
Here is a selection of FAQs from real customers like you!
FAQs
How quick is the application process?
After submitting your application, we hope to make a decision in 1 to 3 hours.
How much does it cost to apply?
Nothing! We do not charge any application fees. There are no hidden or additional costs when getting a loan with Pera Loans.
How much can I borrow?
You can apply up to £2000 with Pera Loans.
What if I have a bad credit history?
At Pera Loans, we help customers even with a bad credit score. We believe everyone should have a fair chance to credit no matter their credit history. Feel free to apply with Pera Loans, and you will get an instant decision.
How do I know if my application has been approved?
Once your application has been approved, you will receive an email to let you know. You will then get a text to confirm the money is in your account.
How can I make the repayments?
The easiest way to make the repayments is through a debit card. You will also have access to an online portal, which will help you keep track of your repayments. You can also make a bank transfer.
Can I pay back weekly?
Yes. With Pera Loans, you can make weekly or monthly repayments. Just select the payment type that suits you on the application form.
Can I pay back my loan early?
Of course! Did you know that Pera Loans only charge interest on the days you have your money? That means you will save on interest if you pay your loan early.
Can I have a top-up loan?
Unfortunately, Peraloans do not offer this service. Once you have paid off your current loan, you can reapply for additional credit through our website.
I currently have a loan with Pera Loans, but I am struggling with the repayments. What should I do?
If you're facing financial challenges, there are ways we may assist you with your loan payments. Contact us on 0203 397 1744 / 07946 220135, and we will do our best to help you.
Pera Loan's new 'Easy Start' Feature
We have introduced our Easy-start feature to help make our loans more affordable and manageable. By selecting "Easy Start" on your application, you will get to pay less in your first instalment, allowing you more time to get back on your feet. You will also get an extra month (or week) to repay your loan. It's important to note that we will not charge any additional interest for choosing the "Easy Start" option.
FAQs about 'Easy Start'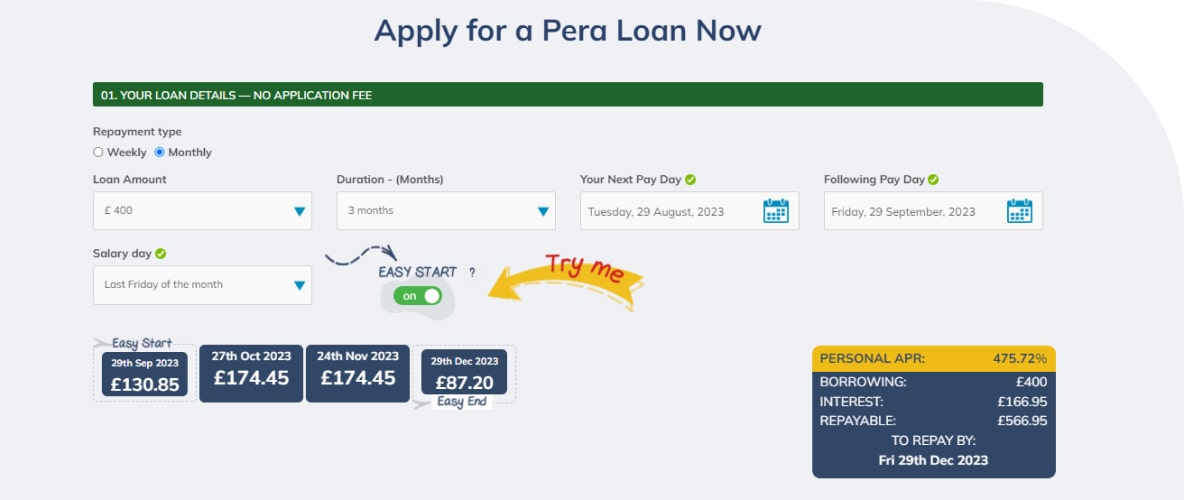 Will the loan be more expensive if it's longer?
Absolutely not. We introduced 'Easy Start' to help our customers manage their loan repayments better without any additional cost burden. The overall payment amount remains the same; we have only distributed the amount over a more extended period. This approach makes our loans simpler to repay and notably more budget-friendly. In fact, you'll notice a significantly lower APR for your loan when using 'Easy Start'.
Can I still make early repayments?
Sure. You are welcome to pay your loan as early as you want and save on interest.
Can I use the 'Easy Start' option if I apply by phone?
Absolutely. When applying for your loan by phone, just mention it to one of our representatives, and they will opt you in.
You must hold a valid UK bank account that accepts direct debit.
You must be 23 or over to apply.
You must be a resident and be eligible to work in the United Kingdom
You must be employed and receive a regular salary.
Your salary must be paid directly into your bank account.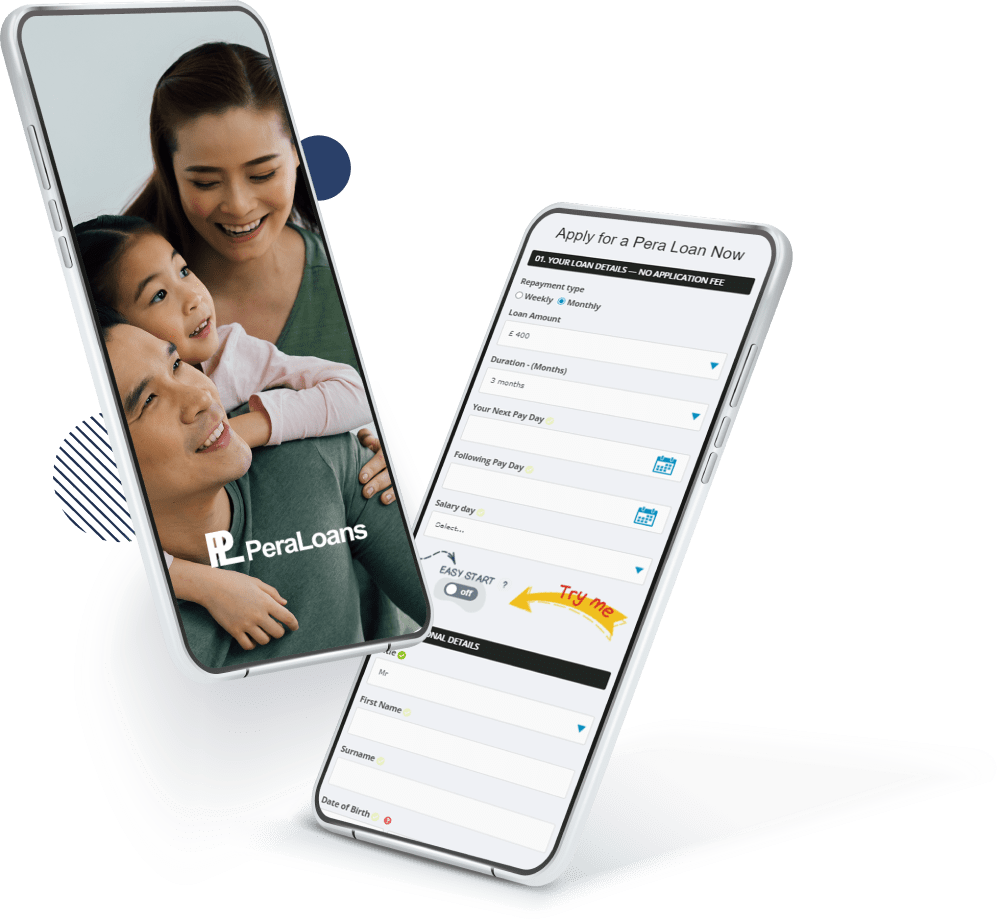 Peraloans.co.uk is committed to providing a good service to consumers and treating them fairly. As always, if you have any questions or queries with regards to our loans you can call us on 0203 397 1744 / 07946 220135 or email us at info@peraloans.co.uk